LIVING WITH A VIEW OF THE TENNESSEE RIVER
Riverside Senior Living
Riverside Senior Living, located in Decatur, Alabama, is dedicated to meeting the needs of our residents and their families by ensuring confidence, compassion, enrichment and respect. – Steven & June Hall, Owners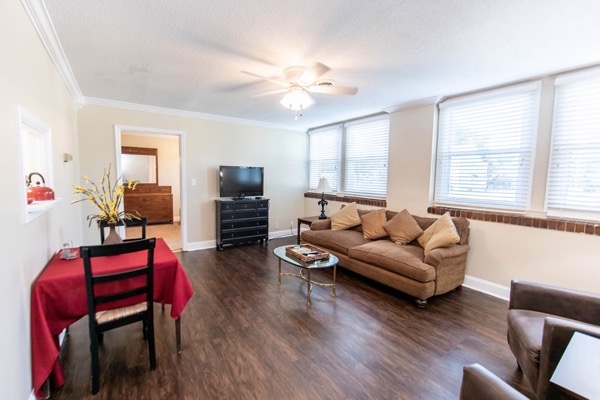 Apartments are now available at Riverside Senior Living in Decatur, Alabama. We offer a safe, caring, senior community with a family atmosphere, including all of the amenities and services you want and need.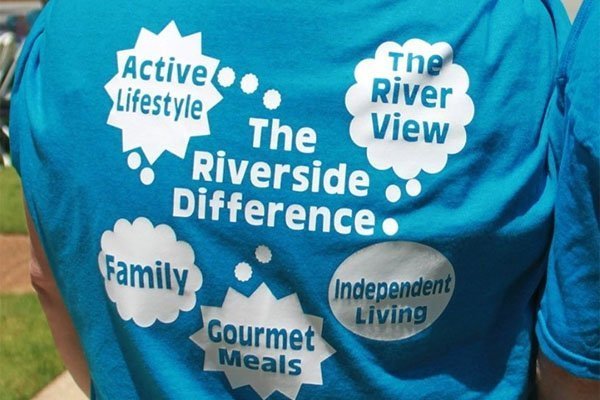 What makes Riverside Senior Living different? Many things, but the difference everyone says is the most important is that it's like FAMILY here. You can feel it and see it as soon as you walk through the front door. Riverside Senior Living is locally owned and operated by June & Steven Hall.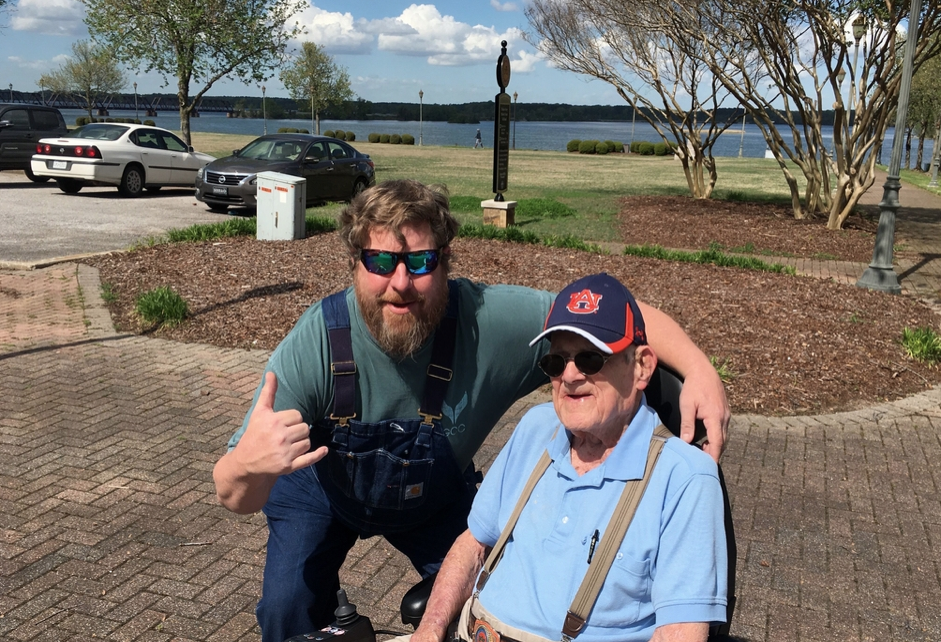 We'd love to show you the "Riverside Difference" first hand. Riverside Senior Living is your new extended family and is locally owned and operated by June & Steven Hall.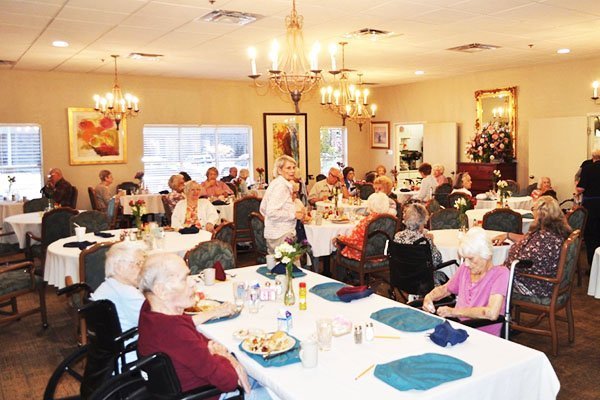 Sitting down at the Riverside table is a flavorful experience. Our cooks know how to keep everyone healthy and satisfied! Ask around town. Riverside is known for its GREAT food!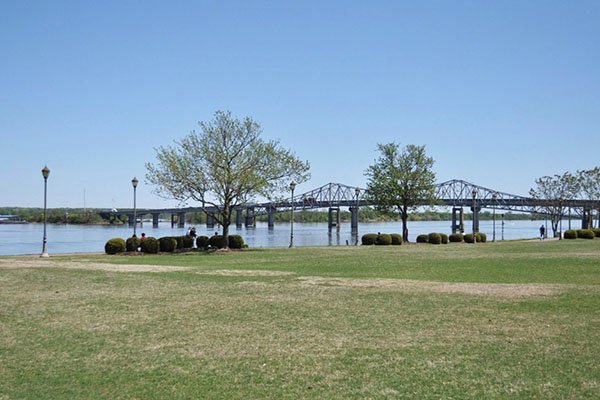 Your spot might be sitting on a breezy porch watching the trains cross the Tennessee River or taking an early morning walk in Rhodes Ferry Park to welcome the day… whatever suits your mood.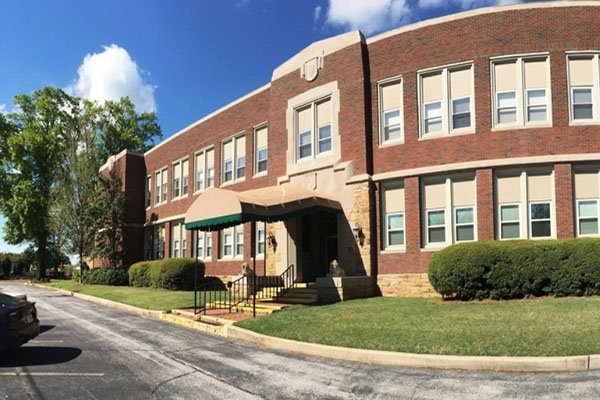 Our Wilson Street building is perfect for those who want a more independent lifestyle, but also may want access to the other services available at Riverside Senior Living. We have studio, one-bedroom, and two-bedroom apartments.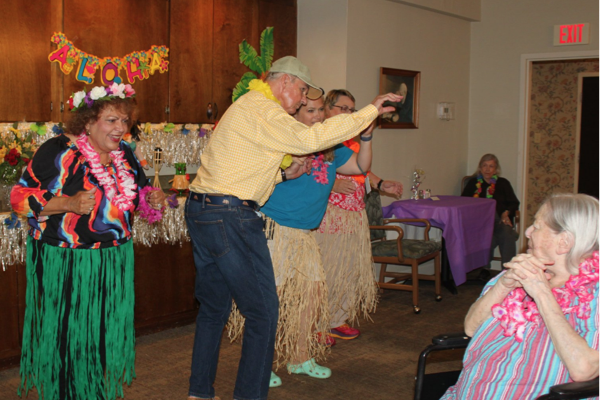 Fun & Energizing Activities
Live Entertainment, Holiday Events, Creative Classes, Wine & Cheese Parties, Local Shopping, the Annual Mr. & Ms. Riverside, Afternoon Games and much, much more. We're always having FUN!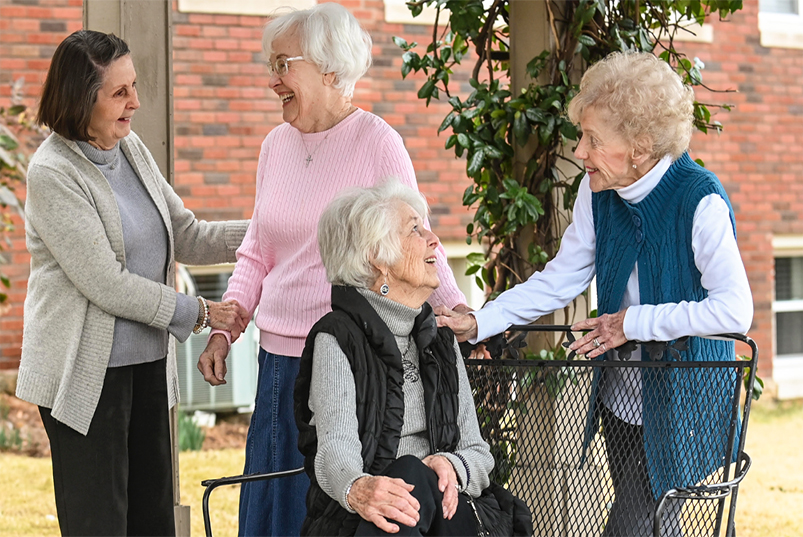 New Friends
There is always room for more friends! At Riverside Senior Living, whether you are playing bridge, eating a tasty meal, or exercising, before long more friends will be at your side – and that's always a good thing!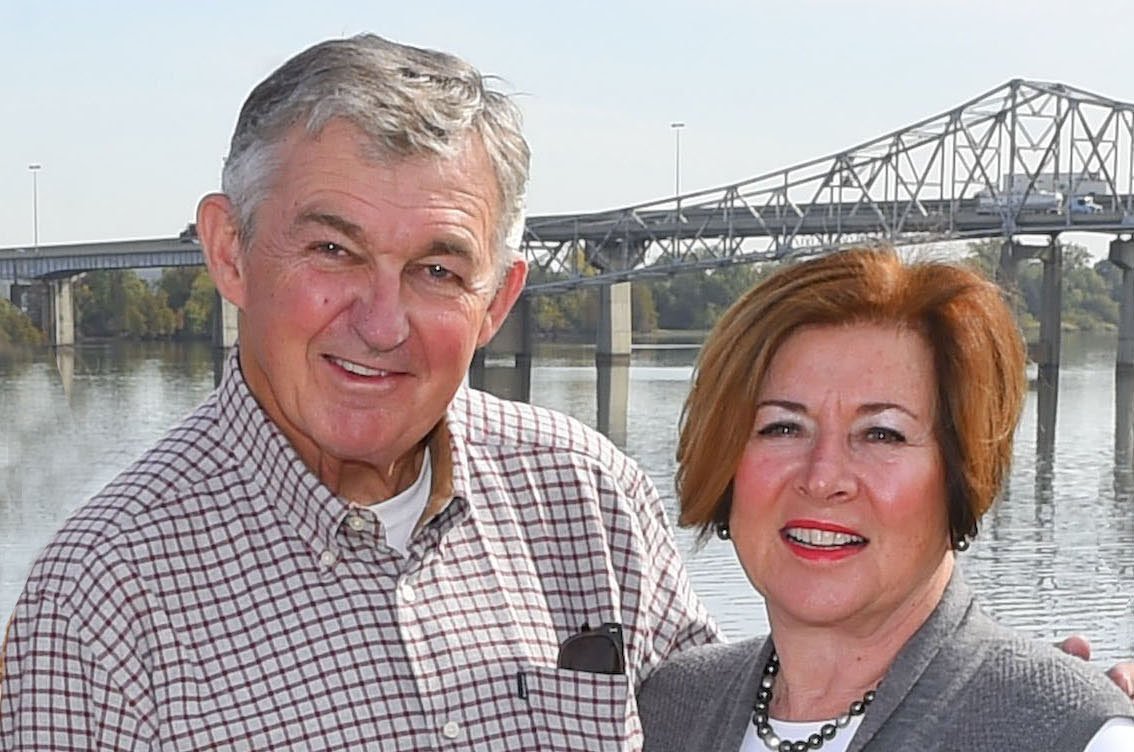 Riverside Senior Living is not an "assisted living" or "nursing home," but a "senior living community" with services. We are 100% committed to enhancing the lives our our residents.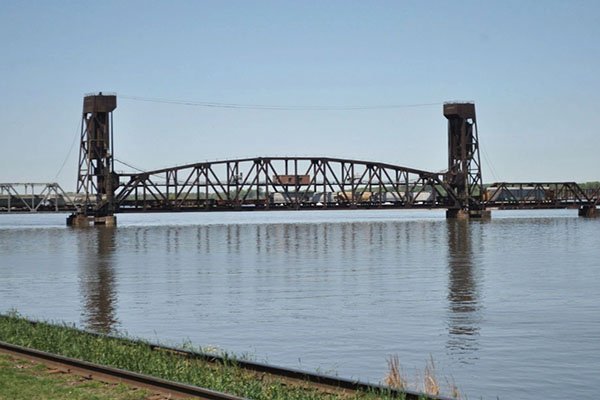 Riverside Senior Living offers our residents a wonderful location adjacent to Rhodes Ferry Park on the Tennessee River, all of the services you need, and a price that is affordable. Schedule a tour and visit us. We'd love to meet you! Join us for a complimentary lunch prepared by our in-house Chef Jimmy!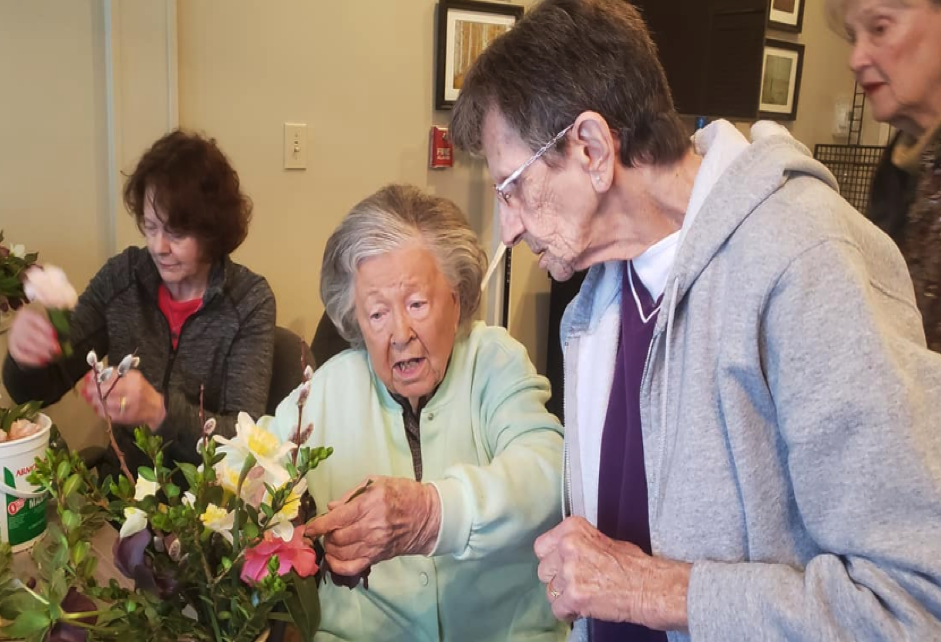 There is always something fun going on at Riverside Senior Living. If you are looking for an active lifestyle you will love it here.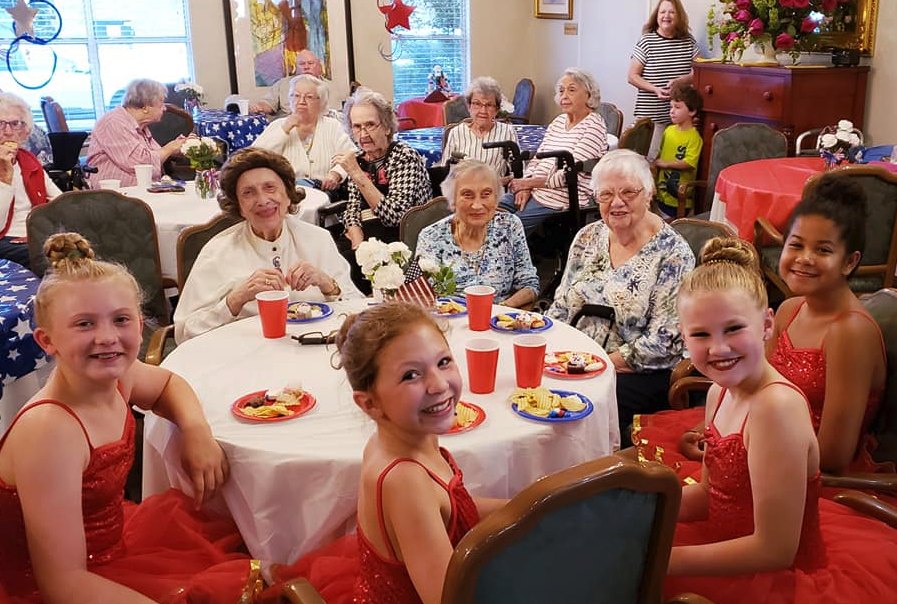 We have job opportunities in housekeeping, maintenance, our kitchen, and our dining room. Apply today!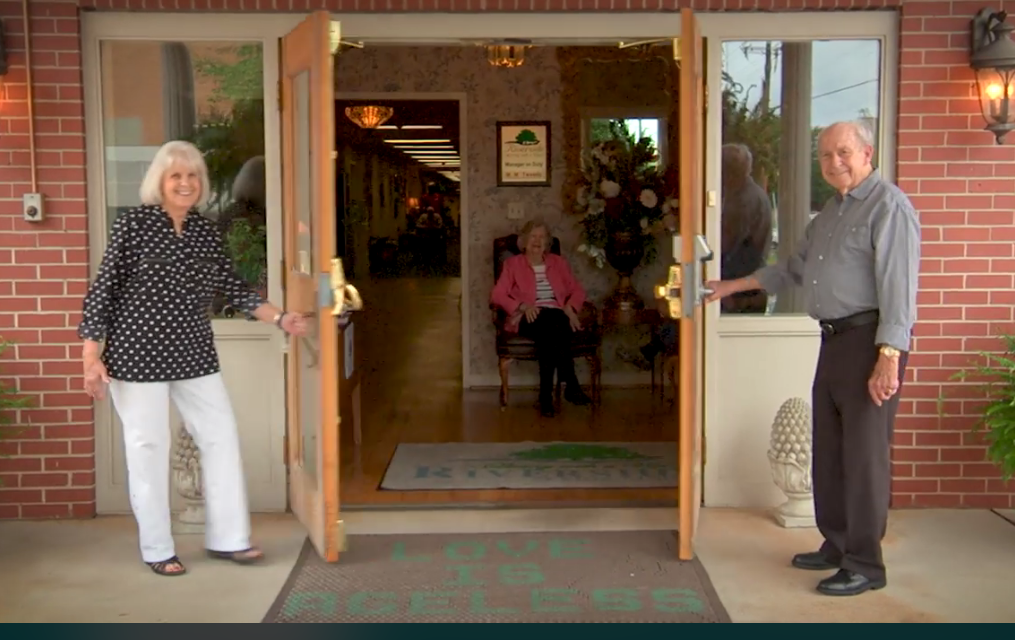 "My Mother, Rose Miller, moved to Riverside in November 2016, and just loves it! She knew several people living there and has made lots of new friends. She enjoys the activities and says the food is good. Each time I visit, her apartment is so clean. Housekeeping does a wonderful job." – Linda Dunlap
"My mom has been living at Riverside a little over a year now and the impact that Riverside has had on her life is remarkable. The staff and residents are family. She tells me that she cannot imagine living anywhere else. We are truly blessed." – Permila Jeffers
"My mother has lived here for four years and she is thriving! I feel like she is very loved and well cared for. She always has a variety of activities to choose from and she has made some wonderful friends. Chef Jimmy is always coming up with new ideas for their menus and even does cooking shows for the residents. We love the nursing staff and they treat my mother like a member of their family. The location is second to none with the incredible view of the Tennessee River right outside their door. I hope Riverside is still around when I am ready for assisted living!" – Kim Schuster (Google Review)
"Riverside is awesome! They care greatly for their tenants and their families. The environment is very clean, well maintained and safe. The tenants are always active in various types of activities that Riverside provides. I would highly recommend if anyone is in need of their services!" – Beverly Schonebaum (Google Review)
"After doing a tremendous amount of research and visiting several other facilities, I absolutely, hands down would recommend Riverside Senior Living. I met the owners June and Steven Hall and I found out that they were a family owned and operated business. I also met with Lisa and Brenda, two of the staff members at Riverside, and they were both very dedicated and very much believed in the Riverside difference. The Riverside difference is simply the location of the facility by the river, which is fantastic. The staff, some of whom have been there for ten years or more, love their job as well as the community. To the head nutritionist and chef who provide personalized meals for the seniors. I was truly impressed by the personal attention that the residents receive. Without question, I recommend this facility for your parents as I did mine. It was truly hard for me to place my mother outside of her home, but I am excited to know that my mom will have over and above board standard of care that she deserves. Before you make a decision, at least have a tour of the facility… it will be well worth your time!" – Julie Fatta
Plan a Visit or Request More Information
Riverside Senior Living, located in Decatur, Alabama, is dedicated to meeting the needs of our residents and their families by ensuring confidence, compassion, enrichment and respect. Visit us and you'll see The Riverside Difference